AJC Review: In SUPPORT GROUP FOR MEN, "Horizon Theatre subverts the usual men's group dynamic"
May 1st, 2023
By Benjamin Carr, For the AJC
'Support Group for Men' offers laughs with an undercurrent of danger.
Playwright Ellen Fairey's "Support Group for Men," onstage at Horizon Theatre through May 28, explores the familiar dramatic territory of masculine angst, yet this is no powder keg. This is more fun than that.
Usually, when a group of average guys appears in a play onstage, it's all about anger, competition, posturing, repressed emotions and an inevitable, violent explosion of temper and desperation. Theater has conditioned us that, when men gather, the worst can happen, be it in Eugene O'Neill's barroom, Reginald Rose's jury room, Arthur Miller's garage, David Mamet's real estate office or any Neil LaBute setting ever. And those playwrights make the plight of being a man look like some kind of dreadful, self-inflicted, inescapable doom.
Being a man ain't always that bad, though, and Fairey's play dares to say so, subverting what audiences have come to expect. Though the core characters in "Support Group for Men" are unsatisfied with their lives, Fairey writes them with tenderness, humor and empathy, even as she hints that any of these characters could turn hostile. This is primarily a comedy, but there's an undercurrent of danger here, even when it's just a scene of men sipping rosé and asking Siri to play some rock music.
Credit: Shannel Resto/SJR Photography
Set in 2017 Chicago, months after former President Trump's election and at the beginning of the #MeToo movement, a group of male friends gathers weekly at the apartment of Brian (Louis Kyper) to discuss their feelings about modern manhood in a safe space.
Hilariously, this involves the men engaging in a grunting ritual, giving themselves culturally appropriated Native American nicknames and passing around a baseball bat decorated with puka shells as a talking stick. This repeated bit is silly and so intentionally wrongheaded that it never stops being funny.
Brian is in his 50s, dating a younger woman and trying to connect better with his emotions.
Other members of Brian's support group include his nerdy high school friend Delano (Marcus Hopkins-Turner), his younger Apple Store co-worker Kevin (Sariel Toribio) and Roger (Evan Bergman), whom Brian met recently through intramural sports. Roger is the most guarded about opening up about his feelings, a curmudgeon who works as a maintenance man cleaning The Bean sculpture.
Brian's Wrigleyville apartment sits above a bar where rowdy patrons begin brawls just below his window, so the meeting is frequently interrupted by potential violence. Soon, the men witness an attack on a genderqueer person named Alex (Roberto Mendez), and the group gets questioned by police officers Caruso (Kelly Criss, who shares the role with Suehyla E. Young) and Nowak (Brad Brinkley).
The introduction of these new characters upends the group's trajectory, giving Roger in particular new ways to consider his own anxieties.
Credit: Shannel Resto/SJR Photography
While it explores emotional intelligence and depth, it is never a slog. "Support Group for Men" is really, really funny. Running 90 minutes without intermission, laughs come quick and often. The chemistry of the entire cast is strong, and the familiar way they tease each other is endearing.
Bergman, in particular, is incredible in this, playing the complicated Roger with suggestions of tenderness, depression and bristling volatility. At the start, he is the hardest character to read, yet Bergman makes Roger the beating heart of the show. It's a tightrope walk of a performance.
As the attacked Alex, Mendez also infuses a difficult, dynamic role with warmth and fervor. The other characters don't know what to make of this jumpy, stumbling, bruised stranger in a wig. And yet Mendez portrays Alex with gentle, unpredictable, fragile grace.
Hopkins-Turner is hilarious as Delano, whose deadpan interjections and buttoned-up demeanor cover up the tensions he carries. The actor gets some of the biggest laughs in the play by conservatively zigging when everyone else zags.
Kyper grounds Brian as the leader of the group, giving him a goofy, granola energy. As the character tries to gloss over any potential challenges he might be facing by instead concentrating on the party he's hosting, Kyper makes Brian familiar and likable.
Toribio plays up his character's youth, optimism and energy, almost as a way to needle the others in the group, who are all from a different generation and hold different ideas about the changing world.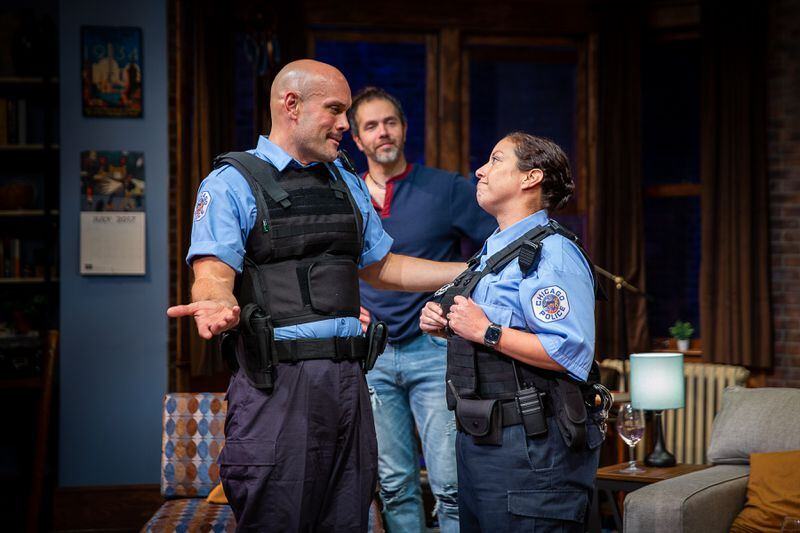 Credit: Shannel Resto/SJR Photography
When their characters invade the primal masculine proceedings, Criss and Brinkley steal every scene they're in by gleefully mocking the group. Criss has an enviable side-eye, and Brinkley makes for an amusing, closed-minded dolt.
Among the technical details, the set design by Isabel and Mariah Curley-Clay feels lived-in and fantastic, and the props designed by Avanthea Holzman — particularly the decorated baseball bat — deserve praise. Dan Bauman's sound design makes the frequent commotion in the unseen alley feel real.
As directed by Jeff Adler, Fairey's script does feel very often like an extended sitcom pilot, and the play has more endings than it needs. The playwright doesn't trust the audience enough to leave them with loose ends or ambiguity. But it is a satisfying, well-acted play.
THEATER REVIEW
"Support Group for Men"
Through May 28. $20-$35. Horizon Theatre, 1083 Austin Ave NE, Atlanta. 404-584-7450, horizontheatre.com.
Bottom Line: Very funny, surprisingly layered script performed by an excellent ensemble.